This is a remake of another figure from 1964, which was a bendable figure like Gumby and Major Matt Mason. The newer, smaller figures from The Four Horsemen (and the Glyos factory) can pop apart at each joint, allowing you to swap arms, legs, heads, and other pieces to your liking. It's fun in practice, great for customizers, but if you're just a guy with a lot of toys it isn't terribly useful in the long run. But if you ever wanted to see what someone looks like with mismatched pants? It's handy. It doesn't hurt anything.
With 9 distinctive mass-produced versions (plus a weapon variant) Xodiac has more variation going on than pretty much everybody. At Comic-Con in 2010, he was one of the first four figures with his clear neon orange Alpha Phase release. I have a hard time picking a favorite, as there are so precious few action figures which include the planet Saturn impaled on a stick for my amusement.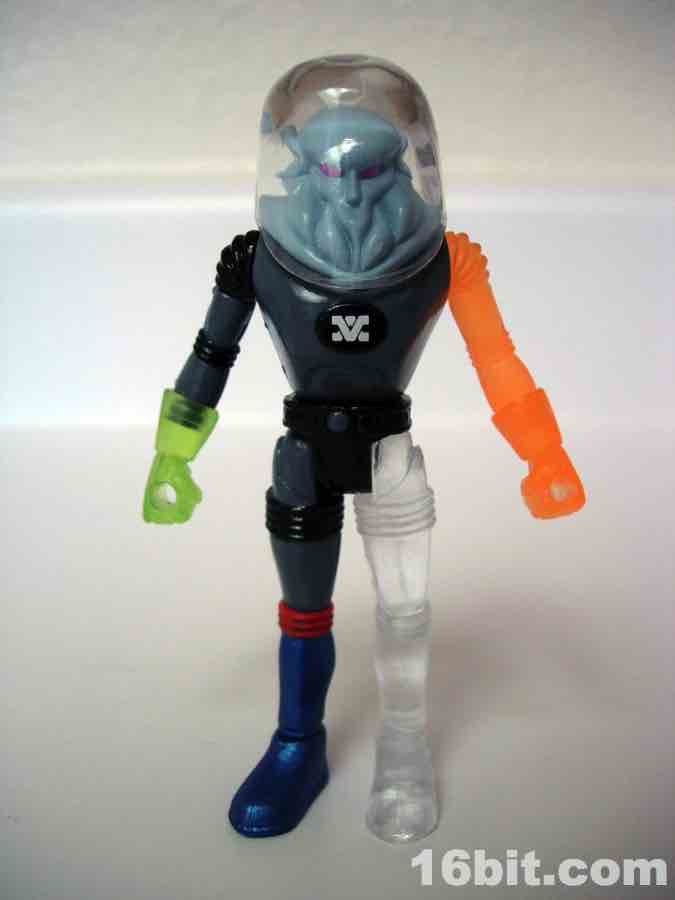 Also interesting, Xodiac's weapon received a semi-late change before production in 2010. The butt of the gun is actually a Glyos peg, whereas the mechanicals for it (seen here with the PMS colors:
http://database.glyos.com/2011/08/xodiac-glyaxia-command.html
) show it rounded off.
Now if you want my sentimental favorite, that's Glyaxia Command Xodiac. The Glyos people were kind enough to give me an early look at it at SDCC 2011, and I was kinda ridiculously giddy to have it. The figure also sold out almost immediately - not unusual for an Onell Design drop, as they cultivated a fanbase who shows up on time to buy. Just tell them where to go, they'll be there.
Anyway - Xodiac got a lady friend, the horrifying Horroscope, in 2013 and 2014. The head looks more like triple-eyed Cthulhu, with tremendous breasts and a booty to match - just like you want from the alien space creature of your nightmares, envisioned through the prism of Harvey Kurtzman's cartooning. She only got three figures - a clear purple one, a White Star one, and the fully-painted one. I kind of hope they do more.
Want more Outer Space Men reviews?
http://www.16bit.com/fotd/land-outerspacemen.asp