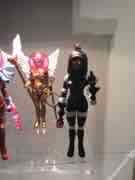 Visit
16bit.com's Outer Space Men Toy Fair Coverage
right now! Why? The
Outer Space Women
are here!
Ohpromatem
(pictured),
Horrorscope
, and
Astrodite
made their world plastic debuts, featuring new and existing pieces from earlier figures and the upcoming Terra Firma, who you'll recall was at this event last year.
Click here for the gallery.
Please note there were additional custom figures, Power Lords, and other items on display. We will be posting links and galleries as time permits, but we've got a meeting in like six hours so cut us some slack.